• Careful handling and transportation of their precious belongings.
• Choosing a reputable Company.
• The price.
• How long it will take complete the move.
Given you may have a move coming up, lets have a look at these important considerations:
Careful handling and transportation of their precious belongings.
Reputable removal companies train their staff to the highest industry standards. All new employees whether they have previous experience or not are extensively trained to meet the company's and minimum industry standards. Company management oversee the training and often make spot checks on jobs to ensure their expected high standards are  being met.
Home and business owners are often faced with that dreaded phone call on a Saturday morning, they have been given a weak excuse as to why their booked removalist cannot do their job.
The pleading for help goes out when their removalist didn't turn up at the critical time in the move. The customer is faced with a range of excuses ranging from the truck had broken down through to the office simply double booking the Saturday morning time frame. Many competitor companies do what they  can to help but most of the time the reputable companies are far to busy with our own bookings to assist.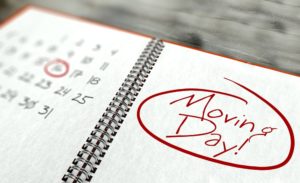 Choosing a Reputable Company.
The key to a stress free move and getting a first class job done, is simply down to choosing a reputable company. Its well known that some dodgy companies week after week overbook and then only do the highest paid job on the day. This is a disastrous occurrence if you are the one left with having to move out and no one turns up! Its simply not worth engaging a removalist simply on price. Check Google reviews, call trade references given to you and get everything confirmed to be done in writing. Reputable contractors are happy to do this.
The Price
Another consideration customers have when choosing a Removalist is how much they are quoted to pay. Moving is not cheap but some operators offer prices that just seem to good to be true. We all know the saying that if its seems too good to be true, it probably has nasty fish hooks for the unsuspecting. What they don't realize is if the operator even turns up, low ball prices can mean no insurance, untrained staff, limited or no equipment, sometimes people even borrow the truck to do the job. Although the cheap price may sound appealing when ringing around. The company quoting the cheap as price may not be very professional at all and more often than not ending in tears.
Reviews of back street removal firms how the removalist dented the fridge or put a hole in the curtains. Don't take short cuts, only use the best, try and negotiate the best possible price possible of a legitimate & reputable company.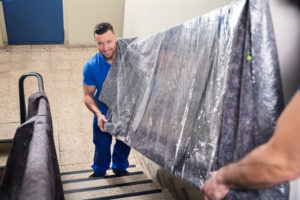 How long it will take.
It is often thought that as long as two men can carry it that you only need two men and that will give you the cheapest option. This is often not the case and here is why:
To ensure your possessions are transported in the safest possible way, it is recommended your removal team has an experienced packer as part of it. A packer is someone who can competently pack the truck and strap items to interior walls protecting all items from transport damage.
When this is not the case and its just two bloks and a van, unfortunately most of the packers time is taken packing and unpacking the truck leaving the other removalist to manage on his own trying to keep a constant supply to the packer. When the single removalist encounters furniture he can't carry on his own, he either has to wait for the packer to finish what he is doing or call the packer down from the truck to help carry the item with him. These things can really slow down the moving process and cost you more in the long run.  If you have a competent packer and two men supplying a constant stream of items to the truck it will take less time and save you money!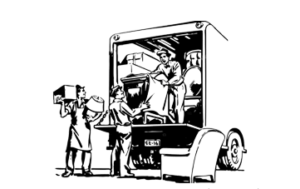 If you are in Perth, the team recommends 2 Easy Removalist Perth Residents Trust. You can learn more about the company and its removal & storage services by visiting the website: https://www.2easyremovals.com.au
If you live in Sydney, the Red Fish Magazine team have first-hand experience to recommend the guys at The Sydney Removalists Company The are very experienced and have all the attributes detailed above.You can learn more about the company and its removal & storage services by visiting the website here: https://www.thecheapremovalists.sydney
If you need a rubbish removal company – the Red Fish Magazine team have also had first-hand experience with the guys at Best Price Rubbish Removal